It's 2:45 a.m. and I can't sleep.
Here is Round Two, the main thrust of which took place earlier on Friday evening.
Our main piece was a three-CD compilation of the various offshoots of
Acid Mothers Temple.
Harv sent me a half dozen titles of these mooks and since I have a psoft pspot for psych-rawk, I dutifully listened.

Lords of the Underground
played sometime on Thursday morning - Mantra two-chord hypno- riffing with enough sideral action to make it somewhat interesting...they have mod, free-jazz chops, but like to zone out on those mantras as well.
And both of those aspects would drive most of my sentient friends batty...but not me!
With the extensive catalogue, though, I have to wonder if they work a regular formula. We'll see. Or rather, hear
Do Whatever You want, Dont Do Whatever you want (2002)
5/28/10 7:55 p.m. 1. PINK LADY LEMONADE (YOU'RE SO SWEET) / Acid Mothers Temple & The Melting Paraiso U.F.O. *
Well. they did their mantra thing. but then they broke out the pneumatic drills and guitar skree. And you KNOW I'a sucker for that kind of action, right? Exactly. The neighbours are moving around upstairs. Dedicated to Colin @ Creatve Radio.
Nice steady low hz hum...like, your speaker isn't grounded anymore, Derwood HAHAHAHAHA
8:03 There! There's that two chord mantra thing...it reappeared
8:37
disc-2
1. SHIZUKU NO YOUNI / Floating Flower
2. SO FAR AWAY / Maquiladora
3. Bésamé La Mucho / Zoffy
4. DISCO, SPACE, BABY / Kido Natsuki
5. MON LION / Fursaxa
6. GANDAKI WARI G.P. / Gopal with Tsuyama Atsushi
7. GALACTIC BOMBER (ROLL OVER CAPTAIN ULTRA!) / Cosmic Riders*
8. PARDON MONSIEUR (smash hits mix) /Pardons**
9. LE LAPIN / Frédérick
10. HELLO BABY / The Wild Riders*
11. LOVE POTION 26 / Magic Aum Gigi*
12. NO MORE RED NIGHTMARE / Tsuyama Atsushi*¡¡
13. BLUES FOR MRS. TRIPLE H / Alien Social Dance Party*
14. WHITE ROOM / Zoffy
15. VALLEY OF THE WIND / Nipponianippon
16. BRAHMAGNPATIRANA (early mix) / Seikazoku*
17. UNTITLED (vanishing version) / Father Moo & The Black Sheep*
18. CAMBOUS / Ueh*
After a short pause Vol. 2...the various spin-offs: forged psych-ethnicity vis a vis the Indian subcontinent, then the POP version of the group.
8:45 More forged ethnicity. Faux Eurasian steppe, I'm guessing. Nice
8:48 Cue
Ping Romany
on synth Triangle! Is that Keith Emerson from the Nice on church organ? Maybe I just dreamed it
Ach! I hear Krautrock references. [Editor's note: This makes sense in light of
this
8:51 interpreting the mid riff of Led Zeppelin's, Whole Lotta Love??!!
8:57 In which
Sebadoh
performs your favourite Traditional Japanese folk melodies! Just for you
8:59 The real folk blues! Keyboardist Cotton Casino: good handle. I'd buy titles on the name alone..
9:02 Creepy voices and these people must know of
Imants Krumins
http://www.acidmothers.com/Cgi-bin/album/nihilist/nihilist_abba/index.html
disc-3
1. CONCURRENCE / Kawabata Makoto & Miyamoto Naoaki*
2. WHITE FLOWERS ON THE HILLTOP / Shogo-nari with Kawabata Makoto*
3. PLANET OF SOMNOLENCE / Space Machine with Kawabata Makoto*
4. UCHU (comet comforter mix)/ Uchu**
5. DOHKOKU / Tsurubami*
6. THIRD EYE OF THE WHOLE WORLD (long version) / Acid Mothers Temple & The Melting Paraiso U.F.O.
7. I WANT YOU TO KISS ME AGAIN / Kawabata Makoto*
At this point, my notes drift off into delirious rantings..basically, these are more rock/improv combos/projects. White Flowers is a folk idiom based thing.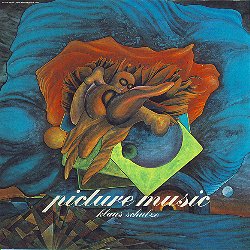 The remainder of the evening was spent wallowing in the early releases of
Klaus Schulze
, specifically 1974's
Blackdance
and it's follow-up 1975's
Picture Music
. Totally electronic , these things anticipated techno, but with more developed arrangements ...and
without
the duh-hey click tracks that drive me batty. Actually , it reminds me of
Hypnotech 3
before they adopted those batty click-tracks> ..what the kids call "chill-out" music. More information on
Schulze
can be found
here.